Here is a guide to where it is customary to have celtic harp music at a wedding or civil ceremony. Ramona is always happy to discuss and work with your plans to make it 'your' special day!
Celtic Harp Wedding packages:
The Wedding Ceremony (approx. 1 hour in total)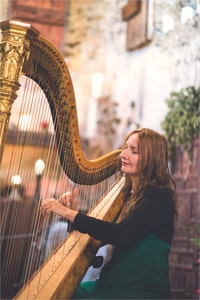 Gentle music to welcome and relax the guests as they gather and wait for the ceremony (beginning 15 / 20 minutes before the ceremony)
Processional music for the entrance of the bride (played at an elegant walking tempo to accompany the bride down the aisle)
A selection of pieces during the signing of the register
A celebratory piece as the couple leave the ceremony to begin the festivities
Reception Drinks / Photos (approx. 1 - 2 hrs)
A range of music to entertain the guests as they mingle and photos are taken
Wedding Breakfast (approx. 2 hours)
Subtle, light background music during the meal until the speeches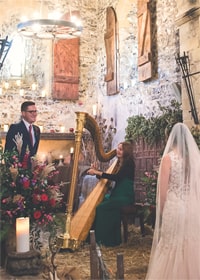 Ramona also offers combined packages:
Ceremony and Reception Drinks
Reception Drinks and Wedding Breakfast
Ceremony, Reception Drinks and the Wedding Breakfast
The Celtic harp is easily portable and can be moved to various locations in accordance with the events of your day. It is suitable for either large or intimate gatherings and can be played outdoors, with the option of amplification when required.
For more advice contact Ramona
Ramona has a captivating and engaging repertoire which includes: Classical, Romantic, Traditional, Celtic and Songs with original arrangements. Here is a sample selection of the pieces she plays:

Pachelbel's Canon in D
Bridal Chorus (Here Comes The Bride) – Wagner
La Sola Grazia – Renaissance Italian
Pastorale – Marcel Grandjany
Flower Duet (From Lakmé by Leo Délibes)
Presto – Jean Chrétien Bach
Parthenia- Savourna Stevenson
Déirín Dé – Èamonn Ó Gallchobhair
Menuet – Johann Heinrich Buttstedt

O' Carolan's Concerto
Princess Royal (Miss Mac Dermot)
O' Carolan's Welcome
Planxty Johnston
O' Carolan's Air
O' Carolan's Farewell To Music

Brian Boru's March
Greensleeves
She Moves Through The Fair (With vocals)
Scarborough Fair
The Foggy Dew
A Trip To Sligo
Harp Of Gold
Fields Of Gold (With or without vocals)
Lavenders Blue
Danny Boy
The Dark Island
Skye Boat Song
Black is the Colour (With or without vocals)

plus more modern pieces requested by previous happy clients...
River Flows in you - Yiruma
The Rose - Bette Midler (With vocals)
Over The Rainbow - Judy Garland
My Cup It Runneth Over - Tom Jones
My Heart Will Go On - Theme from Titanic


How far are you prepared to travel? Do you charge travel fees?

I am a full time professional musician and I frequently travel across the UK. I generally drive to and from a booking on the same day, only charging fuel costs in addition to the music fee if required. If the event is at such a distance that it necessitates overnight accommodation I include a bit extra for B&B. I also sometimes perform abroad.

When will you arrive at the venue?

I arrive at the venue a minimum of an hour before the event to allow plenty of time to find out where I'm playing and to set up and tune up.

What type of harp and music do you play?

I play Celtic harp, which has a very personal, romantic, intimate tone. Made by Pilgrim Harps who are well established, high quality harp makers whom I recommend to my students when they are choosing a new harp. I play a mixture of classical and Celtic music and some renaissance pieces.

What is the difference between Celtic and Classical harp?

They sound very similar but the main difference is that orchestral harps have foot pedals for changing key, whereas Celtic harps have semi-tone levers. I have a lever on every string which means I can play in any key and often change key whilst playing. Celtic harps are very portable as they are smaller than orchestral harps. This can be very useful at weddings if required to move to different locations during the course of the day.

Is your celtic harp loud enough for outdoor events?

I often play acoustically, especially for wedding ceremonies, but I also can use high quality, compact amplification equipment for larger outdoor events or during the drinks reception or meal when required.

Do you have PAT testing and Public Liability Insurance?

Yes, my equipment is annually PAT Tested and certificated. I am a member of the MU with full Public Liability Insurance - £10,000,000.
For more advice contact Ramona
Hear clips of Ramona playing celtic harp from her CD on the listening page
Evening Entertainment packages:
duo, trio, four-piece band, Ceilidh / Barndance band
Looking for music for the evening celebrations?
Ramona can also offer various options for the evening entertainment; co-ordinating your music throughout the day and evening into one cohesive music package.
Ramona sings and plays fiddle and whistle in various professional bands. Whether you are looking for subtle background music, lively jigs and reels or a ceilidh / barndance with a caller, Ramona can advise you and make all the arrangements required to continue the Celtic flavour and flow of your special event.
Experienced at organising events; Ramona is also a member of the Musicians Union and has full Public Liability Insurance and high quality PA equipment which is PAT tested.
"
Hi Ramona, I am delighted to let you have my feedback on the Ceilidh Band. You were brilliant from the minute we made the first enquiry. You answered all of the questions we had with speed and efficiency and were so much more helpful than the others we contacted. The booking process was very straight forward and we were thoroughly pleased with the outcome. The band were just brilliant, so enthusiastic! So many people after our wedding commented that they had really enjoyed the dancing and music - it was a great way for all ages and abilities to get up and dance (or at least attempt too!) I would not hesitate in recommending them. Many thanks for all of your assistance.Julie, Norwich
"
For advice and bookings contact Ramona
For more info about evening entertainment go to the barndance ceilidh band page